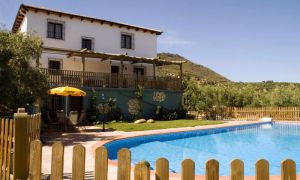 We open the doors of our house for you, a nice home devoted to be a warm place to spend some time with the family or with friends, in a natural environment in the core of Andalusia. Ten places are available to spend some unforgettable days. This is your house. Come and meet it. You can see here the house map..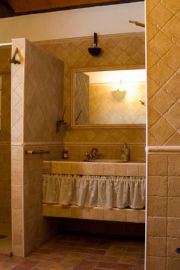 To spend some time in the countryside does not mean to resign the comfort of modern life, in a place with a view to the village and its castle. You can enjoy the peace of a fenced plot with a covered parking for three cars. This house takes advantage of the natural resources, such as the collection and use of the water from the rain in an underground well, or the hot water from the solar power which, with the hot from the firewood chimney, provide a nice underfloor heating.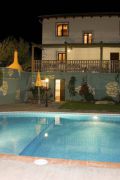 The big and lit swimming pool with sizes of 7 x 14 metres situated next to the porch, has been made for the family enjoyment with two depths, grass, a nearby toilet and a fence for children's security. Besides, a barbecue and a handmade wooden oven are also available.
Now we invite you to come into our house. Come in our huge living room with an open kitchen behind a natural column, made from the trunk of a tree. On one side there is a fireplace, on the other side, the TV with DVD and satellite TV. Walls are made from stones and old bricks with fossils set in them. Lightning comes from eathernware oil lamps. The roof is vaulted, ceramic and rustic, and there are a lot of details to find out. In this ground floor there is a bathroom for the disabled, and a double bedroom with a built-in wardrobe. The stairs go to the first floor where there are three double bedrooms, a bathroom, a matrimonial suite with its own bathroom and a hall with a handrail for children's security.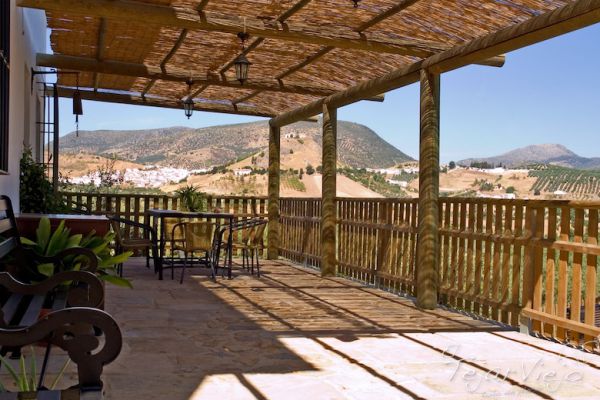 Both, when building our house and later in the daily supplies, we have tried to take advantage of the natural resources and because of that we have:
Collection of water from the rain in order to water the garden and for the pool.
Hot water from solar panels placed on the roof.
Central heating made from wood which comes from our olive trees.
When building the house, a lot of natural resources were used, such as wood, stones, etc.
All is taken into account to provide you comfort in our house.
Come and check it. This is your house.